Please note that while the following post doesn't contain anything controversial - well, I hope not, anyways - the site the post links to may be considered risque to some, and is not intended for those under the age of 18.
EdenFantasys
contacted me this morning about Breast Cancer Awareness. You've probably guessed by now that I want to raise awareness for this awful disease - along with other diseases, I don't want you to think I'm not equally worried about dealing with our Autism crisis, or even every day diseases like diabetes, because I am.
Most of us have had our lives touched in some way or another by breast cancer. My grandmother beat it, my aunt did not. DH just last month lost an aunt to it too. :( I hate this disease. I want it to be completely eradicated by the time my daughter is my age.
I helped my grandmother after she had her mastectomy.
I was SHOCKED at the carnage on her body.
I don't want to be looking in the mirror and seeing my body looking like that. It sounds self absorbing, but I like my boobs. ;) I make sure that every month I check out my ta-tas - and DH double checks for me. ;) I hope that each and every one of you remember to take a moment each month and check yours out too - remember, it's always better to be safe than sorry.
EdenFantasys is encourage YOU to
show your ta-tas some love!
They are hosting a video contest where the winner will receive a $500 gift basket of goodies from them. You have just two days until October 14th to get your entry in, so if this is something you are interested in, hurry!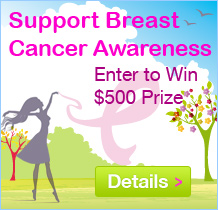 If you're a survivor, and you'd like to share your story with us, please do. Do you have any great support links you'd like to share with me? Have you found a site that has a lot of great medical information written the way we all can understand easily? Or have you written a post about breast cancer? Please share the links!
And since my blog is set up for anonymous comments, you don't have to leave your name. You can even admit that you too, love your breasts, and want to do everything you can to keep them looking their best for your husband or significant other. ;)
I am receiving a gift card for this post, but I'd be talking about it regardless of a gift certificate or not in order to help spread awareness for breast cancer.