Please note that while the following post doesn't contain anything controversial - well, I hope not, anyways - the site the post links to may be considered risque to some, and is not intended for those under the age of 18.
As I have mentioned on here before, I have a corset addiction. I started wearing them back when I was 12 (I know, scandalous to some of you!), and I was so comfortable wearing them, that I wore them almost every day. Yes, even to school! In recent years, I've gotten out of wearing one on a daily basis, and I can tell the difference in my back - I slouch more! I don't feel as put together either when I leave the house not wearing them - I feel LAZY. It's not just about feeling sexy for me.
EdenFantasys has several really nice corsets, including one I added to my collection a few weeks ago: the
Fully boned lace and satin corset
, which is made by Coquette.
Some corsets are what I just call "tourist corsets" - it sounds funny, I know, but some corsets really aren't made to be worn more than a few minutes in the bedroom, and those are the "tourist corsets". Don't get me wrong, they can be fun - but I like the real deal. I loved this corset, because the corset fits right without being too uncomfortable. The lace over the fabric is pretty, and it comes with removable garters - so if you hate to wear thigh highs, you can skip this part of the lingerie. It laces up the back, and has hook and eye closures in the front. Now if you're looking for a hardcore corset - the ones that really cinch in your waist - this isn't it. The plastic boning is sturdy, but not suck it so your waist drops three inches kind of sturdy. It is very pretty though, and if you are daring enough, you can almost get away with wearing it as an outer garment with the right shrug or jacket.
All in all, I was pretty pleased with my purchase. The great part is that it comes in sizes small on up to 3X/4X. The sizing does run pretty true to size from my experience, and since it doesn't have cups, you can get away with a bigger bust (although, if you run a DD or bigger, you may want to go up a size. I am a C cup, and this worked with my bust just fine)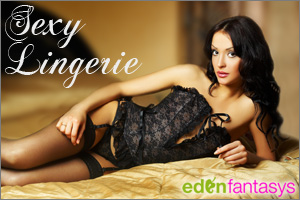 Right now is a great time to take a peek at all of the sexy lingerie EdenFantasys carries, because they have free shipping on orders of $25 or more! There are some pretty pieces under $20, too - go take a peek! Don't forget that you can choose a free gift with your order as well! (Psst - Valentine's Day is about six weeks away!)
This is a sponsored post for EdenFantasys, an online retailer of sex toys - I received a gift card in exchange for this post.