Please note that while the following post doesn't contain anything controversial - well, I hope not, anyways - the site the post links to may be considered risque to some, and is not intended for those under the age of 18.
Pssst - we're just thirty days away from Halloween!
30!
Do you have your costume yet? If you're learning towards something on the sexy side,
EdenFantasys
has you covered! They even carry plus sized costumes, which can be super hard to find sometimes. (It beats me why, when the average size is a 14 or 36C?)
A few tips to find the right costume:
One: be sure to check all your measurements before ordering. With Halloween just weeks away, you don't want to have to return a costume because it's the wrong size, and end up worrying if the replacement will arrive on time!
Two: Don't choose a costume you don't feel comfortable wearing, especially if you are planning on wearing it out in public! If you are self conscious about your hips, choose a costume that covers them flattering. Likewise when it comes to your chest: if you're uncomfortable showing cleavage, and your bust side is on the range of the higher end of the size, it might be worth choosing a bigger size just to get a little more coverage. If you're on the lower side, consider using a set of pasties just in case your shirt dips too much at the wrong time.
Three: Accessories, accessories, accessories! The right pair of knee high socks or costume tights can make all the difference - as can fun jewelry. If you're going as a French Maid, for instance, don't forget the duster! ;)
Four: Make it fun - shop with your spouse or significant other! Sites like EdenFantasys make it super easy to pick out a costume together at home, and build up serious anticipation for when the costume will be worn!
Storm's pick? Check out the
Pirate Wench
! It comes with the hat, and sword, so all you need is some tights and boots! (Plus, you can easily re-use the hat and sword to attend any pirate festival, and the dress too if you don't mind the length.)
Not your thing? They have lots of other
sexy costumes
to choose from!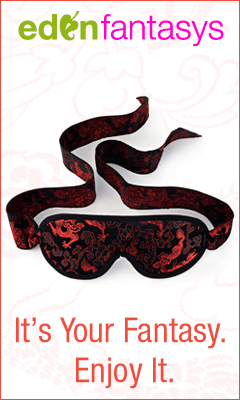 Right now, if you like EdenFantasys over on Facebook, you can 25% on certain costumes! Plus, there is always free shipping on orders over $59, and a free gift with any order.
This is a sponsored post - I received a gift card in exchange for this post.