Please note that while the following post doesn't contain anything controversial - well, I hope not, anyways - the site the post links to may be considered risque to some, and is not intended for those under the age of 18.
Guys, Mother's Day is May 13th - do you have a gift yet? You don't? Well, you had better get to planning! For me, one of the best gifts I can receive is either some alone time in the shower, or a wonderful massage from my husband.
EdenFantasys
can help you gift both! They have a great selection of bath and shower gels to make time spent in the shower much more enjoyable - from Venus body scrub to the Shunga Garden of Edo Organic Collection which is organic:
For the perfect massage, EdenFantasys also has a collection of massage oils to choose from - selections such as Simply sensual body oil to even greener options like the Intimate Organics massage oil which is Cocoa Bean & Goji Berry scented:
If you're looking for something else, they do have 25% off lingerie at the moment. They have some really pretty pieces, including one of my favorites, the
Monique corset and thong
which is on sale for just $37.49 after the discount!
If you haven't signed up for the EdenFantasys newsletter yet, you will receive a free gift for doing so. Don't forget, EdenFantasys always has a free gift with every order, and free shipping on orders of $59 or more!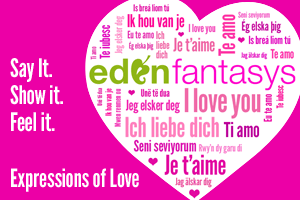 This is a sponsored post for EdenFantasys, an online retailer of sex toys - I received a gift card in exchange for this post.