Please note that while the following post doesn't contain anything controversial - well, I hope not, anyways - the site the post links to may be considered risque to some, and is not intended for those under the age of 18.
Halloween is just 29 days away. Have you thought about your costume yet? Even if you're just looking for a little something fun to wear at home, EdenFantasys has you covered. They carry sexy costumes in sizes XS through 3X/4X. They even have a few costumes for guys, although the selection is a tad bit limited at the moment. (They do have a fun police officer one!) My current favorite at the moment is the
Saloon girl– costume
:
It comes with the dress, lace gloves, fan, feather headpiece and fishnet pantyhose. A lot of the time when you purchase a costume, it doesn't have the accessories included, but most of the costumes from EdenFantasys has everything you need but the shoes! (I'm still keeping my fingers crossed that one day they will start to carry shoes!)
While you're on the site making a giant wishlist, you can also enter to win gift baskets and gift cards in their Save The Ta-Ta's contest! While you can still enter without making a purchase (see rules for details), 5% of all proceeds is donated to Breast Cancer Research. Contest ends October 12th, so hurry on over!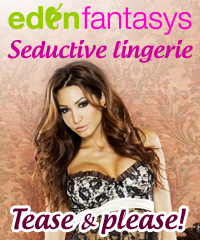 Remember,
EdenFantasys
has a free gift with every order - you can choose from a selection of gifts that change fairly regularly. They also have free shipping on orders of $35 or more, and free express 2 day shipping if you spend $90 or more!
This is a sponsored post - I am receiving a gift card in exchange for writing this. After all, a girl's gotta have some pretties to wear for her husband. ;)